Indications:
The stenoses of the carotid bifurcation, for the vast majority of atherosclerotic origin, are both frequent (5 to 10% of subjects over 65 years have a stenosis> 50%) and severe, due to the risk of infarction Cerebral impairment. This risk is greater than 10% per year in case of symptomatic stenosis and around 2% per year in the case of asymptomatic stenosis. Their management is based on drug therapy and the control of vascular risk factors; In addition, a revascularization gesture may be indicated. The techniques for revascularization of these stenoses include surgery (mainly endarterectomy) and stent angioplasty. The High Authority of Health (HAS) evaluated these two techniques to specify the indications.
Symptomatic stenoses
When revascularization is indicated, surgery remains the reference technique. Stent angioplasty is not indicated as a first line. The non-inferiority of stent angioplasty with respect to surgery in terms of mortality and stroke on day 30 has not been demonstrated by the results of the recent European randomized studies SPACE and EVA-3S .
In patients with transient ischemic attack or moderate or regressive cerebral infarction, intervention within 2 weeks provides a benefit over delayed intervention. Patients over the age of 75, especially males, benefit more from carotid surgery than patients under 65 years of age.

Stent angioplasty can sometimes be discussed:
•    If the surgeon considers the intervention contraindicated for technical or anatomical reasons (contralateral contralateral paralysis, immobility of the neck, tracheotomy, severe tissue lesions or inaccessible carotid stenosis).
•    If medico-surgical conditions are deemed to be at risk after a multidisciplinary discussion (including advice from the vascular surgeon and neurological consultation), the conclusions of which should be recorded:
•    clinical risk (heart failure with ejection fraction ≤ 30%, severe respiratory insufficiency, unstable ischemic heart disease, severe valvular heart disease);
•    therapeutic risk (patients already receiving an anti-aggregation combination of aspirin and clopidogrel that can not be interrupted);
•    hemodynamic risk (occlusion of the contralateral carotid artery).
These risk factors do not formally contraindicate surgery, but may cause a stent angioplasty to be discussed.
Asymptomatic stenosis
The risk of having an ipsilateral cerebral infarction is estimated to be 2% per year in patients with asymptomatic carotid stenosis ≥ 60%.

According to the ACAS and ACST studies, the risk of stroke 5 years after surgery is halved after carotid surgery compared to the course under medical treatment alone.
The benefit of surgery appears only in the long term (1 to 2 years), whereas for the symptomatic forms, it appears early after the intervention.
This benefit is lower for women.
It is independent of the degree of carotid stenosis above 60% (as in the case of symptomatic stenoses).
Currently, there is no evidence of stent angioplasty for asymptomatic carotid stenosis.
However, in case of asymptomatic stenosis ≥ 60%, if a carotid revascularization is deemed necessary and if the surgeon judges the contraindicated surgery, stent angioplasty can be exceptionally proposed after a multidisciplinary discussion. The conclusions of this discussion should be recorded.
Radiological stenosis and post-operative restenosis
•    Treatment of carotid artery stenosis or post-surgical restenosis, whether symptomatic or not, is a medical treatment, alone or in combination with endarterectomy revascularization or stent angioplasty.
•    In practice, the therapeutic strategy is discussed according to the symptomatic or non-symptomatic nature of the stenosis, its degree of severity, life expectancy and anatomical parameters. A multidisciplinary consultation is necessary (with, in particular, advice from the vascular surgeon and neurological consultation); Its conclusions must be recorded.
What degree of stenosis to use?
There are two ways of measuring a carotid plaque: The European method: E.C.S.T. And the North American method: N.A.S.C.E.T. The quantification of the degree of stenosis is not the same depending on the type of measurement.
The indications given by the expert conferences are based on the N.A.S.C.E.T.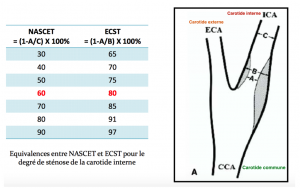 What medical treatment is proposed for asymptomatic carotid stenosis as a first intention?
Smoking cessation (level A recommendation).
Anti-aggregation therapy (aspirin) should be undertaken as soon as the diagnosis is made (level A recommendation).
Treatment with statin should be initiated upon diagnosis of carotid stenosis (level B recommendation). Oral anticoagulants have no place in carotid stenosis whether symptomatic or not (recommendation of level B).
Voltage control with a voltage less than 140 mmHg / 90mmHg; If possible by an I.E.C., A.R.A.2 or possibly by a beta-blocker. (Level A recommendation).
Control of blood glucose levels.
Overweight (Level A recommendation).
Physical activity> 1 / d (level A recommendation).
Sources:
HAS: http://www.has-sante.fr/portail/upload/docs/application/pdf/fiche_stents_carotides_web.pdf
American Society of Cardiology 2011: https://my.americanheart.org/idc/groups/ahamah-public/@wcm/@sop/@spub/documents/downloadable/ucm_430166.pdf
American Society of Vascular Surgery: http://www.jvascsurg.org/article/S0741-5214(11)01635-1/pdf
French College of Vascular Surgery: http://www.cfcv.fr/reperes.htm